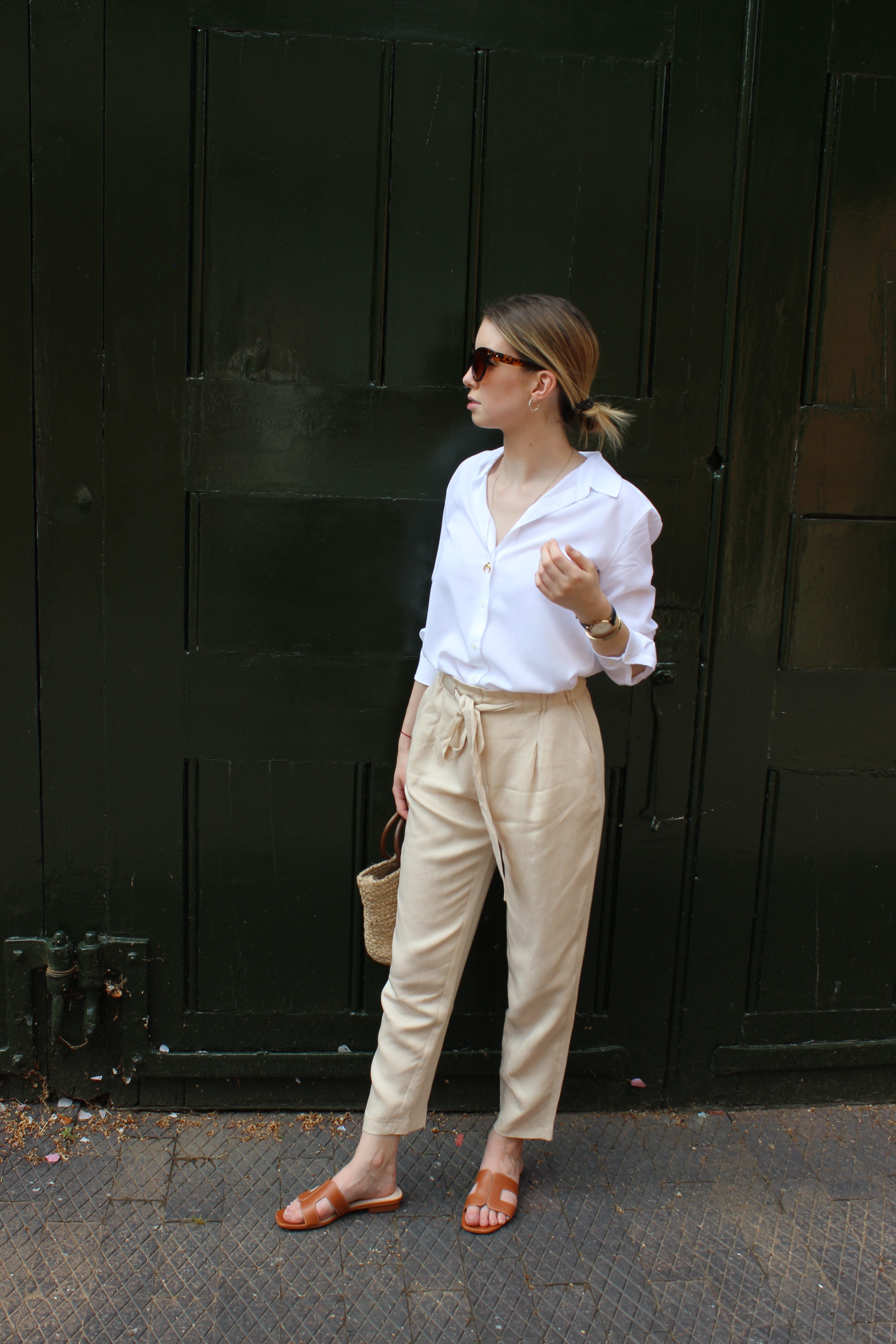 The UK heatwave may have been and gone, but while it's set to remain sunny for at least a few more weeks here in Blighty, I'm eking out the Summer trends for all they're worth. I've always preferred the sunnier weather (I hate feeling cold with a PASSION), but have struggled in the past to dress for the season, being someone who's not overly body confident and doesn't like getting their legs out.
This is where linen comes in. Over the Summer months I've been pretty much constantly dressed in some sort of linen combo, and have been loving it! It's the perfect answer to your body-conscious prayers whilst keeping you cool in the sunshine, and just looks so effortlessly cool.
So for those of you who feel the same about dressing for sunnier climates, or just you linen lovers out there, I've put together a little look book to inspire your last-of-the-Summer-days wardrobe…
I love these tie waist pair of linen trousers, and think they can look great dressed up or down for work or play. I've gone for a mix of the two here, with the smart white shirt but more casual shoes. These are the infamous Hermes dupe sandals from Dune that everyone and their mother has been raving about. I can confirm they are SO COMFY and well worth the £80 price tag! I've quite literally lived in these this past season.
Another way to wear the linen trend is in shirt form, and this baby has been a multi-purpose dream in the hot weather. I've been wearing this tucked into jeans, skirts, shorts, and even as a shirt dress over a bikini on the beach during my holibobs. I've been obsessed with this shirt and have honestly had so many compliments every time I've worn it. The button detail drew me to it straight away as it just gives it that added oomph. It's unfortunately out of stock now but they may well restock for next year!
And last but not least, my favourite of all the linen looks is this pair of Zara trousers (that actually came as part of a suit and I'm gutted I didn't snap up the blazer to match!). They're just so simple and chic, and the colour is the most gorgeous stone shade that goes with just about anything. I like the contrast between the light trousers and the dark top, and the jute bag – another Summer obsession of mine – adds a textured element to this simple outfit which I just love.
I may not have to give up on my linen blazer dream just yet though, as Zara have brought out another version which I think would look great for Autumn as it's an earthy tone and would look great with jeans.
All in all, linen has been a real winner for me and I'm honestly having a mini-strop that I have to pack it away until next year pretty soon. What were your favourite trends this Summer?
OUTFIT DETAILS
Look One
Tie Waist Linen Trousers | Zara (similar)
Sunglasses | Vintage
Look Two
Sunglasses | Primark
Look Three
V Neck Ribbed Top | And Other Stories
Sunglasses | Vintage