Hailed the "accessory du jour" by Grazia, detachable collars are the perfect accessory to transform an outfit in an instant. The 'Peter Pan collar' has been on the fashion map for quite a while now, and is still as popular now. But with these clever add-ons, you can kiss goodbye to forking out for statement collared tops and blouses, and say hello to the wardrobe staple that will update a last-season item or add to a new one.
Established in December 2010, coveted detachable fashion accessories brand, Nauticoco, has seen a surge in popularity since their collars debuted on ITV's This Morning, and featured in Grazia, Vogue, and Red magazine, to name a few. The British brand's Director, Alison Williams explains that she wanted to create a range of "versatile, feminine accessories that will be the hardest working items in any wardrobe".
"'Add-on' collars are a must-have accessory. You only have to look at the catwalk [Autumn 2011] to see that collar adornments were a strong trend with many high-end designers including them in their collections."
Layer these little beauties under tees, blouses and dresses, for the perfect finishing touch. They start at £39.95, for a Silk Portman Collar, that will add an understated edge, and range up to a totally-worth-it £69.95, for the lust-after Silk and Pearl Hepburn Collar. Although this might seem a bit pricey for an accessory, think how many different looks you could create with this little fashion extra..and who's to know it's not an original part of the outfit? Why oh why has no one thought of this before?!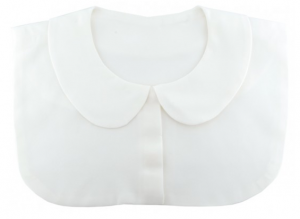 Detachable Silk Portman Collar in White, £39.95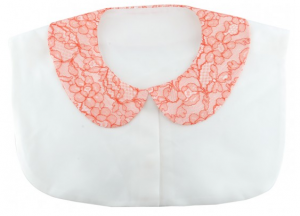 Detachable Silk & Lace Watson Collar, £39.95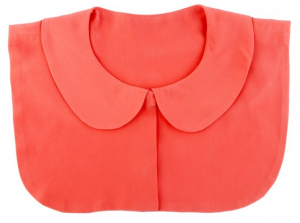 Detachable Silk Portman Collar in Coral, £39.95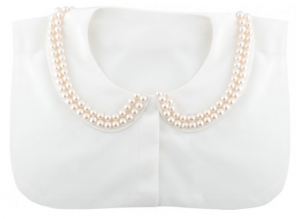 Detachable Silk & Pearl Hepburn Collar, £69.95
(all Nauticoco)
The accessory innovation has now unsurprisingly started popping up across the high street too. My favourites include Gemma Lister's Black PP, and Black Leather Collars, and the cute-as-a-button Cream Faux Pearl Collar from Miss Selfridge. Or you could steer more to the jewellery side of collar-dom, with something like Accessorize's FF Peter Pan Metal Collar.
Left: Black PP Collar, £50; Right: Black Leather Collar, £125 (both Gemma Lister)
Left: FF Peter Pan Metal Collar, £10 Accessorize; Right: Last Season Topshop necklace, my own
Alas, I'll have to stick to my last season Topshop number for now until I've saved enough pennies to build up my collars collection – once I've mastered the art of leaving a store without feeling like mother-magpie!
Chloé x