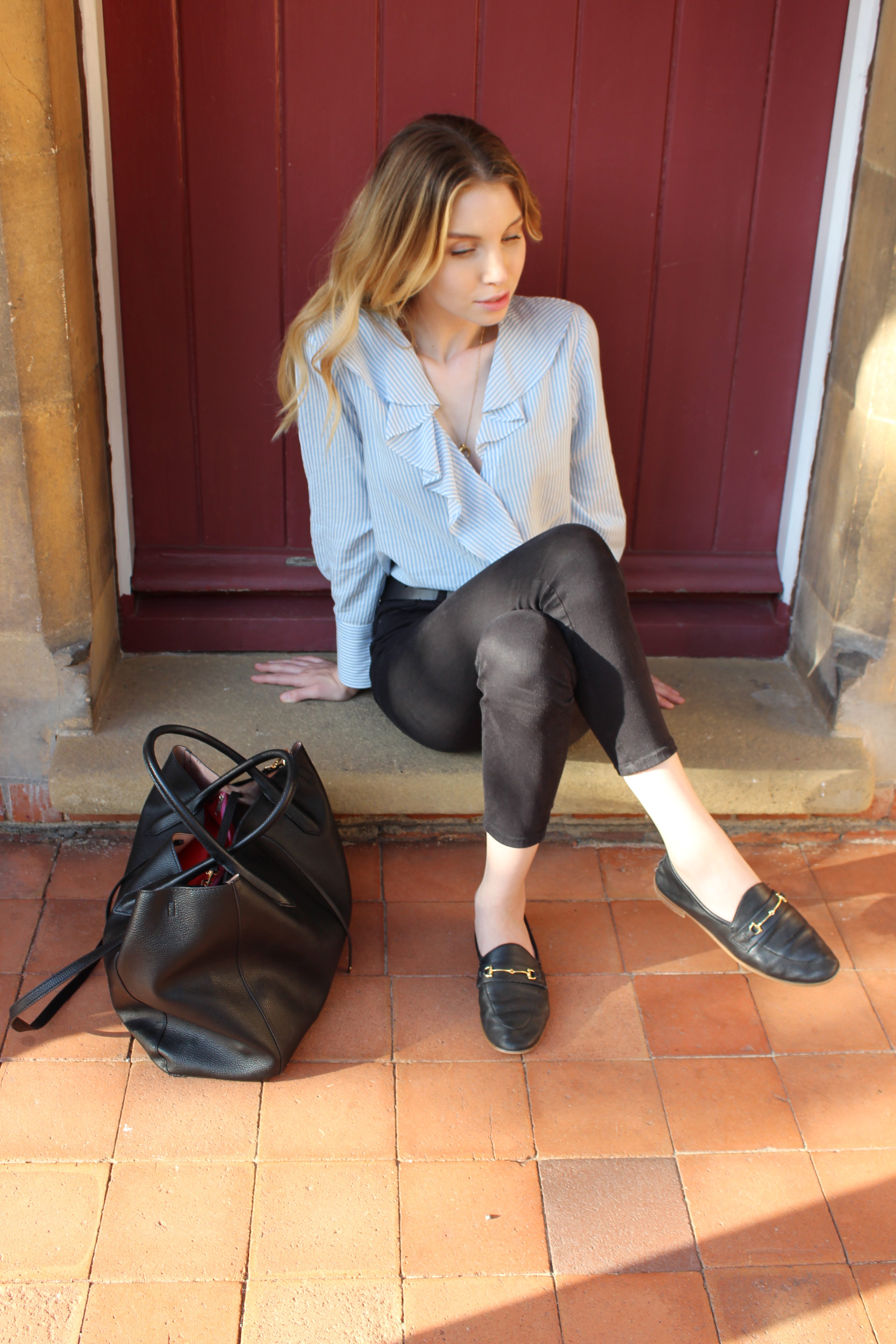 The infamous Gucci loafers really are the "it" item that just doesn't quit – they're still going strong after over a year on the must-have list. Everyone who's anyone in fashion has themselves a pair, and you can't scroll through Insta without spotting them on someone.
This is a bold claim, but I'm genuinely convinced these puppies will never go out of style. Unfortunately though, my budget doesn't quite stretch to hand-crafted Italian leather, so until I start shitting money, a high street copy will have to do.
The Dupes
Enter Topshop's Karpenter loafers… I snapped these up as soon as I saw them, after months of hunting for a good dupe. Their much more affordable take on the iconic flats have certainly got me impressed, that's for sure! I literally haven't stopped wearing them – they go with just about everything, from office wear to jeans and a tee. They're the perfect everyday black flat! Don't you just love a multi-purpose wardrobe staple?
The Review
When it comes to flat shoes, I have to say I am partial to a small bit of toe cleavage so at first I wasn't sure they'd suit my style. But the androgynous look had me hooked from day one; the masculine edge to them really gives a casual outfit especially that fashion edge. They did come in a suede alternative, but knowing what I'm like, they'd be ruined within weeks and I really wanted something I could confidently wear in all weathers.
Now I'm very picky when it comes to footwear, and the negatives on this pair didn't slip the net. Although they're real leather they do make your feet sweat a bit even on a cold day, and in the one week of sunshine we received in the UK, they actually stained my feet a little. But it's not like you always reach for your closed toe flats on a hot day now, is it? So I can definitely get past this. Also, the first day or two of wear, the soles were very slippery and they were slightly snug across the toes, but they didn't take long to wear in and now they're hella comfy; feel like I'm practically wearing my slippers when I have these on. The leather is buttery soft so you do have to pull the heel on rather than just sliding your tootsies in, which I thought would really grate on me but I'm so used to this now I don't even think about it.
At only £45 (the metallic version are only £10 online, ordering asap!), I think these dupes are an absolute steal considering how similar they are to the real deal. Plus, I know this is fashion blasphemy but I think I actually prefer Topshop's take than the actual Gucci Jordaan Horsebit loafers. The gold chain is more delicate which I love, and even though it put me off at first, the brown sole as opposed to black has really grown on me.
These are a real winner for me – mid-range price point, on point designer dupe, granny chic and comfy as hell…what's not to love?!
I've linked up a few other Gucci look-alikes in case you're not as much of a superfan of the Topshop alternatives as me. What ones are your fave?