I've always found that adding jewellery to an outfit can completely transform a look into something more "put together".  And with my current uniform of choice being jumpers, jumpers and more jumpers in this recent spell of horrific UK weather, a few statement pieces of jewellery really do make a difference. So I thought I'd share with you a few of my current favourites…
Right now I'm crushing hard on And Other Stories' in general, but their jewellery selection especially as they do the most stunning delicate chains and stacking rings, as well as some more statement pieces to inject a bit of fun into your look. I fell hard for these gold hoops (sidenote: I only ever wear gold, silver's just not my thang). They're just a little bit different to your standard hoop earrings, and despite their size, they actually feel quite lightweight when you have them in, which is always a plus.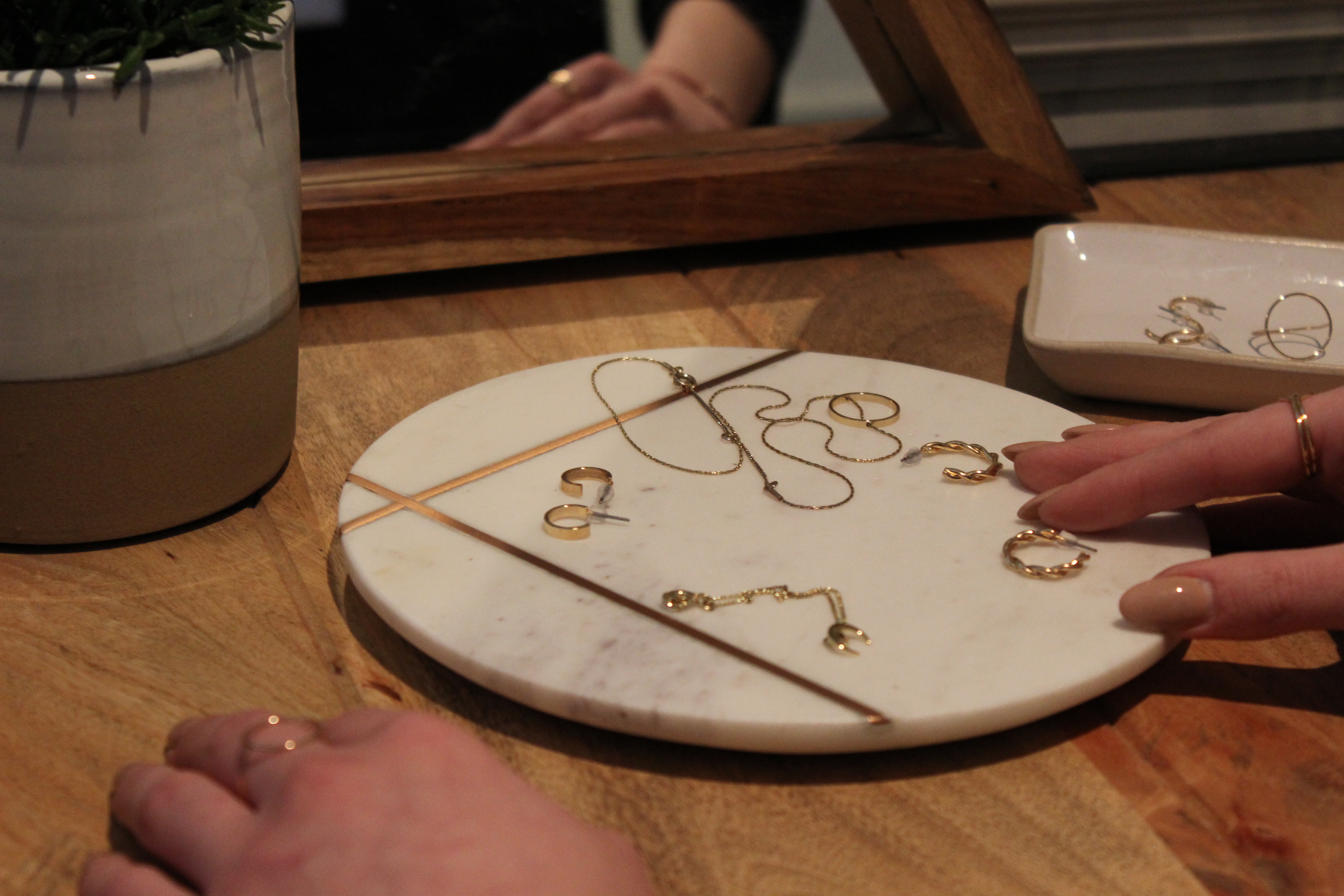 I'm really into hoops in general at the moment, and I'm often grabbing for one of these H&M pairs. They're so affordable, but still look they could be high end. And you get such a good variety in one of their multipacks!
I like to mix and match when it comes to rings, and at the moment I'm loving mixing a few newbies from And Other Stories (yes, I'm obsessed) with some from a good old H&M multipack. I love super thin rings, so these are perfect for me. They look great on their own for a more simple look or stacked up if you're going for more of a boho vibe.
My beloved Missoma necklace is something I wear most days as I love it so much. It goes with basically everything and I'm just in love, k? Seriously though, it's another piece that creates a statement on its own or can be layered up with other delicate chains for a whole different look. I'm really into Missoma jewellery but they are a little on the pricier side, so if you're not down to spend a wad, Cinco do some v similar style necklaces for a pinch of the price. I have my eye on a few already…
My watch of choice is from designer Daniel Wellington and was a gift from my lovely boyfriend, so it's something I wear everyday for sentimental reasons. But it really is something that goes with any outfit, it's just such a classic style. I usually layer my "watch wrist" with a bracelet – this one is actually from Spitalfields vintage market years ago and cost me a mere £12, get in! It's meant to look like the Cartier Love bracelet, and even has the Cartier name engraved on the inside (naughty!). But it's lasted me all this time without any tarnishing whatsoever so it's a winner in my book!
And last but not least, my little red string bracelet from our most recent trip to Mexico. Another that I wear every day, as it adds a little pop of colour without being in your face about it, and is just super cute. Unfortunately it's not something you can find an exact replica of unless you're casually over in the same Mexican boutique store, soz. But the high street is great for little string bracelets like this.
All in all, I'm pretty happy with my current bling situation, but I'm always on the lookout for new brands to stalk. What are your fave pieces at the mo?