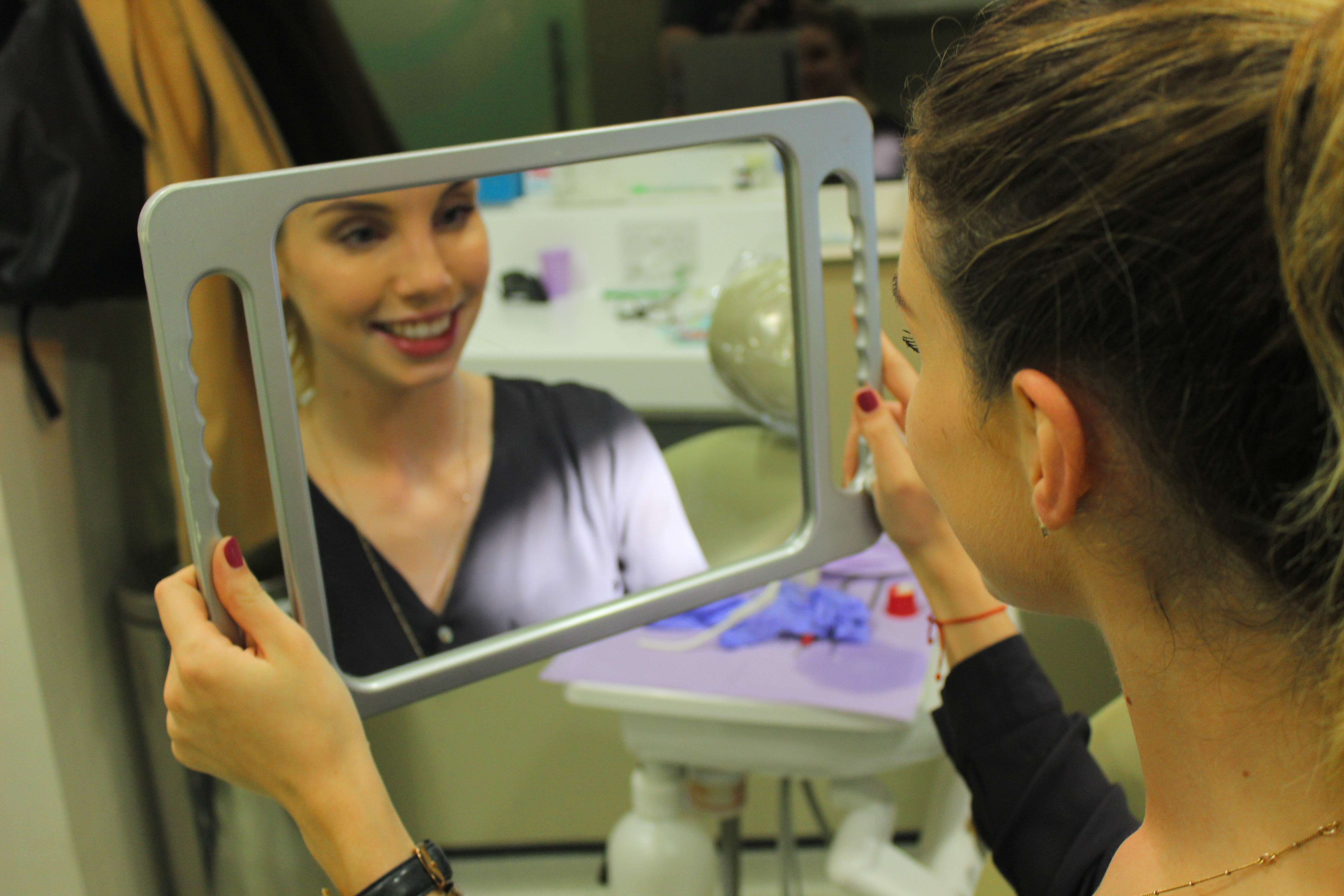 Like pretty much everyone on the planet, whiter teeth is something I'm always striving for. I've always just relied on toothpastes that promise the earth (usually with minimal results). But as I've crept into my late twenties, I've noticed that staining on my teeth is much more stubborn, and regular trips to the hygienist just isn't enough anymore. Don't you just love ageing?!
But without the budget for full-on teeth whitening, I was beyond excited to be given the opportunity to try out the next best thing – Smilepod's High Gloss Diamond Polish. Think hygienist clean x10 with a little added sparkle.
It's a great (and much cheaper) alternative to whitening, and is especially good if you're in the market for more of a natural-looking stain-free smile than super bright pearly whites.
The Science Bit
1.       The treatment is made up of four steps, with the first being a deep clean using an ultra-sonic scaler to remove tartar with a special gentle tip, flushing out bacteria from below the gum line with water.
2.       This is the nails-on-chalkboard bit. The dentist then hand scales each tooth to remove any small pieces of build-up missed during the ultrasonic treatment.
3.       Next up is a fine jet of calcium carbonate powder using high-power air jet for thorough stain removal. Essentially a sand blaster for your teeth. Honestly, this was pretty uncomfortable as the powder particles hit your gums and tongue at such force.
4.       Afterwards, the dentist finishes up with a high gloss polish using diamond paste for that extra shine.
The Verdict
My teeth did feel beyond clean after the treatment, and I would definitely recommend it if you're self-conscious of perma-stains like I was. They felt super smooth and you could see an immediate difference for sure. How long it'll last before they become stained again, we shall see, but I'm pretty happy with the overall result. Great if you're looking for sparkling teeth in a hurry.
I would advise not booking a dinner date for afterwards like muggins here did, as your face will be covered in powder from the air jet. It's a pretty messy procedure so make sure you have your make-up bag in tow to touch up if you're planning on doing something after the treatment.
Also, maybe it's just me being a wimp, but the whole sand blaster thing wasn't exactly pleasant and doesn't taste great either. I guess no pain no gain though, and it wasn't traumatic enough to put me off getting it done again.
The treatment took a total of 45 minutes so one you could definitely squeeze into your lunch break if you wanted to, and costs £89 at Smilepod. It's available at seven London locations so is super handy for city dwellers and commuters like me. I just hopped off at Moorgate and it was about a 5 minute walk from the station.
For someone with a sweet tooth as serious as mine but a purse as empty as, well, mine, this is a definite must if you want to get rid of those stubborn stains at a fraction of the cost of teeth whitening. Thumbs up from me!
Thinking of booking in? – Visit Smilepod's website HERE for all the info you need, from studio locations to treatments and prices.